What is the introductory industry-academia interface at Invertis University? - Bareilly
Saturday, 30 April 2022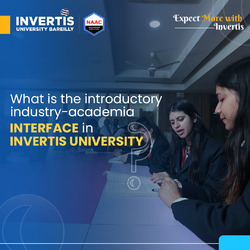 Item details
City:
Bareilly, Uttar Pradesh
Contacts

Invertis University
Item description
Invertis University, North India's Best Innovative University, has added another feather to its crown with the inauguration of an "INDUSTRY INSIDE INVERTIS" and has become the first University in North India to have an Industry constructed within the Campus. Invertis University's objective for the Centre for Skill & Entrepreneurship Development (CSED) is to provide real-life industrial exposure to its students from the moment they arrive on campus.
Dig into Industrial Academica:
Invertis University, with DCS as its system integrator and technology partners such as Dassault, PTC, and MasterCAM, is enthusiastic and committed to fostering Skill & Entrepreneurship Development Initiatives. The Centre for Skill & Entrepreneurship Development (CSED) aims to build a skill acquisition system in order to promote industry-relevant skill growth, which will act as a catalyst for inclusive and sustainable industrial development and job creation for students.

Dassault Systèmes
Dassault Systèmes, the 3D EXPERIENCE Company, is a driving force for human advancement. We create collaborative virtual platforms for businesses and individuals to imagine long-term solutions. Our clients push the frontiers of creativity, learning, and production by generating 'virtual twin experiences' of the actual world using our 3D EXPERIENCE platform and apps.

Parametric Technology Corporation (PTC)
PTC Inc. is an American computer software and services company founded in 1985 and headquartered in Boston, Massachusetts. PTC provides CAD, PLM, IoT, and AR solutions in on-premises, hybrid, and SaaS deployments, establishing a closed loop between the digital and physical worlds to alter how everything around us is created, made, and maintained. This digital thread ensures data continuity between departments and facilitates cross-functional cooperation, empowering everyone involved at every stage.

MasterCAM
Mastercam offers solutions for designers and NC programmers all around the globe, including 2- through 5-axis routing, milling, and turning; 2- and 4-axis wire EDM; 2D and 3D design and drawing; surface and solid modelling; creative relief cutting; and Mill-Turn. Customers range from one-man enterprises to Fortune 100 corporations.
Motive of Industrial Setup

The CSED Program's goal is to "service society as a Centre for excellent technical education that will deliver long-term social advantages by conveying advanced information, finding new knowledge, and functioning as a contributor of creativity and innovation."

Long and short-term curriculum that is industry-relevant and emphasises experiential learning, problem-solving, project-based learning, creativity, and cooperation.

Provide students with a clear direction for learning new work skills as well as a systematic and flexible technique for acquiring new abilities and information for improved employability and entrepreneurship.

By sensitising academics, we want to create an ecosystem for entrepreneurship and skill education.

Curriculum development for entrepreneurship and industry-relevant skills, highlighting advancements in context, pedagogy, and other areas of entrepreneurship education.

Support trials that will assist the academic and scientific communities by increasing their knowledge of cutting-edge technologies.

Provide high-quality business development services to MSMEs in a variety of industries.

Initiating actions at the national, state, regional, and local levels to sensitise the ecosystem and promote entrepreneurship and skill development in order to accelerate start-ups, hence ensuring company sustainability and growth.
The live engagement with the invited specialists will provide them with much-needed exposure to the project's real-life difficulties.

The students, faculty, and support staff's inventiveness and innovative talents will have a significant influence once they begin working together.

The construction of an e-learning centre will provide instructors and students with the ability to engage with the world's greatest scholars.

Effective and efficient. In a training environment, "effectively" indicates that training achieves the desired results—not just enabling learners to master specific training objectives, but also ensuring that such learning eventually contributes to their placements.

Choose The Best
Who doesn't want to practice learning and experimenting? Invertis University is the right place for you to study and learn while attaining industrial exposure.