Vedicline French Red Clay & Moroccan Argan Oil Cryo Mask - Bareilly
Friday, 23 July 2021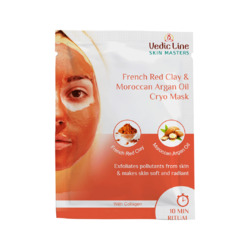 Item details
City:
Bareilly, Uttar Pradesh
Contacts

Ais Gupta

9990519050
Item description
"Let's stop the war with breakouts. Vedicline french red clay is one of the best clay mask for pores that is specially formulated to detoxify & purify the skin with the ancient Egyptian therapy.
A luxurious blend of mask targets problematic skin & draws out all the impurities without drying and irritating. Effortlessly remove sebum & dead cells and won't leave skin dehydrated. An ultimate home spa experience for a silky, clear and refined complexion. Vedicline french red clay benefits you can see as you apply this on your face several times with the proper implementation of the mask.
This face mask is rich in vital vitamins and antioxidants. Red clay is one of the richest sources of vitamin & nutrients required for your skin. Argan oil is rich in antioxidants as well that maintains the skin's overall health. Red clays are effective at drawing out impurities from the skin, while essential oils help reduce impact of sun and free radical damage.

Step 1:
Use our wooden spoons to scoop out some product and transfer it into a clean, dry bowl.
Step 2:
Add a few pumps of water to make a paste-like consistency and apply a thin layer on the face & neck in an upward direction.
Step 3:
Leave it on for 10 to 15 minutes till it semi-dries. Rinse it off gently with lukewarm water and pat dry with a soft towel. Use twice or thrice a week.

"